Goodness, that was a busy week!  Here in our little village everyone has been super-excited about the Platinum Jubilee.  We had a special church service, a street party, Jubilee cream teas with a guess-the-weight of the cake competition (sadly I didn't win) and a best-decorated house competition.  We didn't win that either, but I feel that we acquitted ourselves well with several hundred yards of Union Jack bunting!
We had to stop for a (very patriotic) cup of tea part way through our bunting exravaganza, and I took the chance to pick up my stitching for a little while.  These carol singing mice are all stitched now and the pattern will be in the August magazine.  Last month a lovely newsletter reader asked about cotton spool creations for Christmas and these mice will be mounted on cotton spools, making ideal ornaments for your shelves or mantlepiece over the festive season.
Rather more appropriately to the current season, I've been busy making ice cream for a family party next month. Our local supermarket had a special offer on cherries, which are currently in season here, so I decided to try making this Vanilla and Cherry Ripple Ice Cream from Delicious Magazine…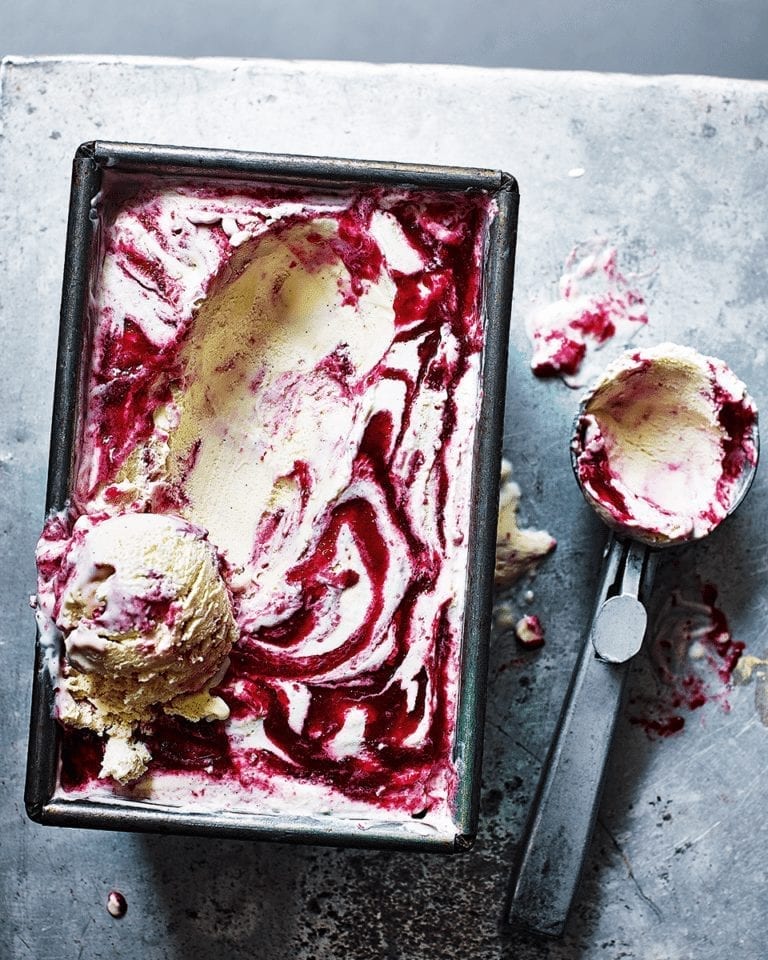 This is their picture as their swirling in of the cherry sauce looks much better and more artistic than mine!  But though my ripple swirling probably only scores about 6.5 out of 10, my actual ice cream turned out to be absolutely delicious and I totally recommend giving this recipe a go!  You can find it here on the Delicious Magazine website. (PS You don't need an ice cream maker, but it does make things easier)
Returning to our afternoon tea – did you notice a large black shape in the background of the photo?  It is our very own Miss Daisy who is now a grand old lady who will celebrating her tenth birthday in the autumn….
She's done so well reaching this age, long-term readers of this blog will remember that we nearly lost her when she was 18 months old when a virus attacked her heart causing it to fail.  The vet told me to say goodbye to her as she might not last the night, and yet here she is outliving all expectations.  She's very slow and stately now, but still just as pretty as ever, in our opinion – and her own(!)
She loves to sit and watch me stitch, though her eyesight is not what it was, and was by my side while I worked on these two projects for the next (July) edition of the magazine.  The friendly fisherman walrus is part of my planned coastal theme in honour of the summer holidays, whilst the reindeer are the first Christmas project to be published this year.  They were such fun to work and could be used to decorate all kinds of items – I do hope you like them!
And finally…. again as a result of my recent workroom tidying, I have just a few Alice packs available.  I'm not currently offering kits as I'm enjoying concentrating on designing and stitching at present, as well as a number of other (non-stitching related) projects.
The Alice packs (image above) contain pre-printed fabric, all the floss you need to complete your project, needle and full stitching instructions.  They do not however contain the hoop – you will need to purchase this separately if you don't already have one.  She fits in either a 5″ x 7″ oval or 6″ round hoop.  I have listed the packs in our Etsy shop – but when they're gone – they're gone I'm afraid so please don't delay if you'd like one.