Welcome to our free patterns page! We love sharing our designs and hope they'll inspire you to start creating.
If you'd like to stay in touch with us, then please CLICK HERE to enter your details and join our FREE weekly newsletter containing all our latest news plus hints, tips, tutorials and more free patterns too. (PS We NEVER share your details with anyone else) You'll also receive instant access to all the lovely patterns pictured above!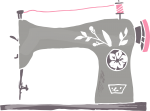 Here are some of our free tutorials to download. We'll be adding more over the coming months, so be sure to check back from time to time!
Check out the contents of some of our previous issues – we packed so much between the covers ….
NEW!! Click here for Bustle & Sew DIY Video shorts – hints, tips and stitches