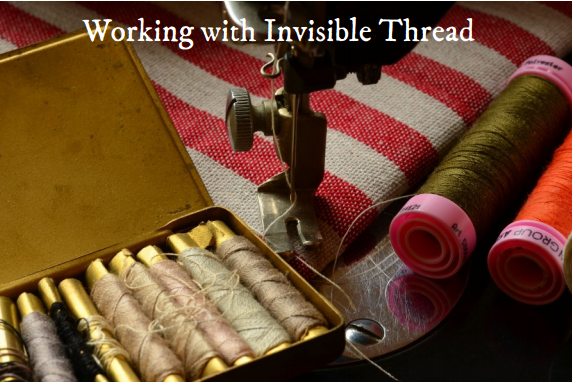 Invisible thread is one of those indispensable items for those who love to sew, but whilst it is amazingly useful, saving time and energy, it is (in my opinion) quite horrible to work with. The whole point of using invisible thread is that your stitches blend perfectly into the background of your work, rather than being prominent – either as a result of using a thread in a contrasting colour – or failing to match your thread properly.
Invisible thread is available in two fibres – nylon and polyester. This can be confusing, if you see that your spool states your thread is "polyamide" -but this means that it is actually nylon and not polyester. Polyamide is nylon's chemical name.
Polyester holds up well to UV light and higher temperatures than nylon and does not become brittle or yellow with age. Having said this though, many people like nylon as it feels softer and can be more "invisible" when used – it's really a question of personal preference. It's definitely worth checking out a few brands of thread before making your purchase as they do vary – some show more than others, having a shinier finish than others which can be quite matte.
You can purchase invisible thread in clear and smoke colours or tints. Clear blends with most light colours and smoke with darker ones.
If you haven't used invisible thread in your machine before, then it's well worth practising on some scrap fabric to achieve the correct your machine settings. You can use invisible thread both in your needle and bobbin or, more usually, it may be paired with conventional thread in your bobbin. Use the smallest needle you can. Because they are so fine and made from a single extruded fibre, monofilament threads don't relax to fill the hole left by your needle.
Depending upon your machine, you may find you achieve the best results with either the vertical or horizontal spool pin. You may also need to adjust your tensions. If the bobbin thread shows through out the top and so doesn't secure the invisible thread properly then stitches will easily become undone. In that case loosen the upper tension. If the reverse is true then tighten your upper tension. Beware however before tightening your upper tension as invisible thread can stretch – and generally a looser tension achieves the best results.
Tip: If your machine doesn't have a needle threader, and you're having trouble threading your needle with invisible thread, then colour the end of the strand with a permanent marker – such as a Sharpie Then at least you'll be able to see the end you're trying to poke through the eye of the needle!
If you want to use invisible thread in your bobbin, then you may find that you need a tighter bobbin tension. If you plan to do a lot of sewing with invisible thread in your bobbin and your machine does need a tighter tension, then it may be worth considering purchasing another bobbin case just for invisible thread. Then you won't have to keep (scarily!) adjusting your bobbin tension.
Another point to remember if you want to use invisible thread in your bobbin is that, because invisible thread stretches, you MUST wind your bobbin slowly. Because of the heat produced during winding and the fact the thread is so fine, it's easy to over fill a bobbin and literally have it pop apart. Avoid this by filling your bobbin about half full, especially if it's made of plastic. Invisible thread is very springy so it's important to lock your stitching both at the beginning and end with some back stitches.
So yes, invisible thread does require some understanding and preparation before you begin work, but once you've mastered its quirks then it is a really useful addition to your sewing box. It can be used for free motion quilting or stitching as well as for applications using a presser foot, such as straight or patterned stitching.
Invisible thread is also great for attaching multi-coloured bindings where it's difficult to select the best thread colour to use. And it's also great if you simply don't have the right thread colour to hand, or are stitching over two different fabrics.
Care of items stitched with invisible thread:
Remember that invisible thread will melt – and that nylon thread will melt at a lower temperature than polyester thread. So, if you have to press your work, press on the reverse, or use a cloth to prevent melting. Lowering your iron temperature is also a good idea. Both nylon and polyester invisible threads stand up well to washing, though it is a good idea to avoid hot tumble dryer settings as again this could cause melting.