Goodness, this summer has flown past!  Although to be fair it hasn't felt much like summer at all for the last few weeks.  But now the weather has turned again and it's warm – even hot – and sunny outside.  Ben and Daisy are not at all in favour of this change, and have gone back to snoozing the summer days away on the cool stone floor of the kitchen.  We were up early this morning, so they could enjoy their walk while it was still cool (especially important for Ben, who has an extremely heavy coat), and I was surprised to see how the countryside had changed over the last week or so.  Autumn is definitely only just around the corner …..
.. and we arrived home with wet paws – and feet too as the heavy dew soaked through my canvas pumps.  But for this weekend at least it is still summer as we enjoy the last Bank (or Public) Holiday before Christmas here in England.  I know that America is celebrating Labor Day tomorrow and I'm sure there are other public holidays elsewhere around the world.
As it's a holiday weekend, we've decided to celebrate with three special offers here on the website.  I'm very much hoping that there's something for everyone to enjoy, with a special introductory offer on our new Embroidery Kits, a new Magazine Bundle offer and a return of our Christmas pattern discount.
Our long-awaited embroidery kits are now available to pre-order.  At the moment we have two designs for you to choose from – our popular Rosie's Houseplants Hoop and new 2018 Calendar panel.  Both kits contain the design pre-printed (the calendar panel is in full colour) onto a really nice quality fabric, full stitching instructions with photographs, needle and all the DMC floss you'll need.  We will be dispatching our embroidery kits week beginning 4 September and we're offering a 15% discount on all orders placed until 31 August.  You don't need a code for this offer, you'll see the prices have already been reduced in store.  Please just CLICK HERE for more details and to purchase.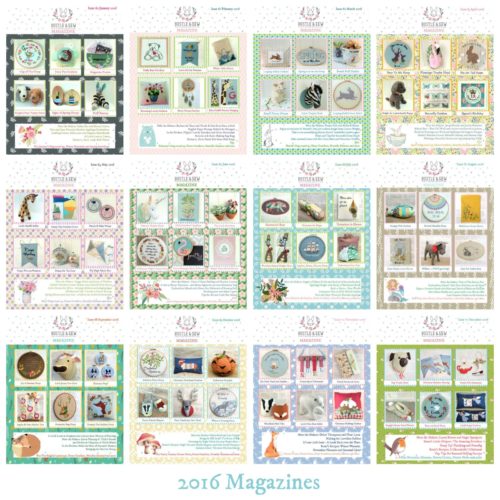 And now for something we haven't done before!  Rosie has been really busy bundling together all the 2016 issues of the Bustle & Sew Magazine, and now here's your chance to grab a complete set of 2016 Back Issues for the great introductory price of just $20!!  Between the covers you'll discover 72 lovely Bustle & Sew projects (some of which have never been available outside the magazine), meet lots of very talented craftswomen and makers, sample some of Rosie's recipes and enjoy a whole year in the English countryside too.  And as well as all of this there are features and articles, and even a poetry corner too! CLICK HERE to learn more.
And finally ….. 50% reduction on Christmas Patterns.  We had a special offer on our Christmas patterns when I re-opened the Christmas store last month.  I don't know about you, but although Christmas in July is a well-established internet event, I'm simply not ready to start thinking about my Christmas stitching until now.  So I thought it would be nice to repeat our Christmas pattern offer this week for everyone like me (I'm sure there's a few of you out there!).  You will need a code for this offer – just enter XMAS50 at checkout.   Just CLICK HERE to visit the Christmas store.
All these offers are valid until 31 August only.