I am entranced … amazed… overcome….  I adore my hexagons.  I hexagonned(!) all afternoon – Ben had to come to the workroom door to remind me that it was his tea time, I was so enraptured I had forgotten (he was not too impressed!). 
I can cut hexagons!!
I think I have said before that I am not always very quick on the uptake, but  even I have noticed all the Accuquilt  Cutters appearing in blogland recently.  As I am not really a quilter – my cutting is very sloppy, my seams are wonky and I am far too impatient – I had not taken too much notice.  But then …. a very nice lady called Carolyn contacted me from Accuquilt to ask if I wanted to try one of their cutters. 
So I did (well I couldn't resist) … and LOOK!! I
can
cut hexagons!!  My new Go! Baby fabric cutter is a wonderful little device, with which I am able to easily produce wonderful regular hexagons.  (It does lots of other shapes too, I understand, but hexagons are fine for me at present.  One step at a time as my teacher used to say).
I adore my baby cutter …. and the hexagons above are part of a tutorial I'm putting together using it that will be finished soon. It's not quilting – but I hope you'll like it.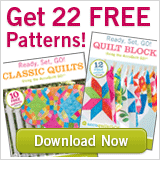 Meanwhile, those lovely people at Accuquilt are giving away lots of free patterns when you join their mailing list, (just click on the image above to check out their offer), and I'll be back with details of my mysterious hexagon make at the weekend.