We're well into the New Year now – in fact I'm not sure you could really describe 2019 as "new" any more!  Christmas is just a distant memory, though the effects of all that feasting and merriment are still lingering around my waistline.  The days are growing just a little longer now – when I was researching facts for the January Almanac in this month's
Bustle & Sew Magazine
I was pleased to note that by the end of this month daylight hours will have increased by over an hour – and though spring isn't yet upon us, there are snowdrops in abundance all around the village where I live.
Returning to the magazine, there's lots inside to enjoy this month, and you can find out more over in our
store
.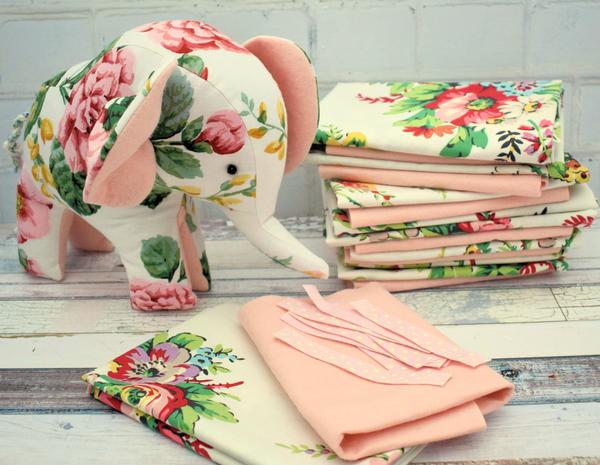 But now I must come to not such a pleasant part of this post – the theft of one of our patterns/images.  Many readers may remember my Flora the Elephant sewn from some delicious 1930s fabric – and Flora has been an amazingly popular free pattern for – well – quite a few years now.  Here is my Flora above – standing next to a pile of fabric destined for a limited edition Flora kit that we offered probably about 19 months ago.
And below – is my Flora again – being offered for sale by a totally unknown and unauthorised website.  (thank you to the kind reader who pointed this out to me)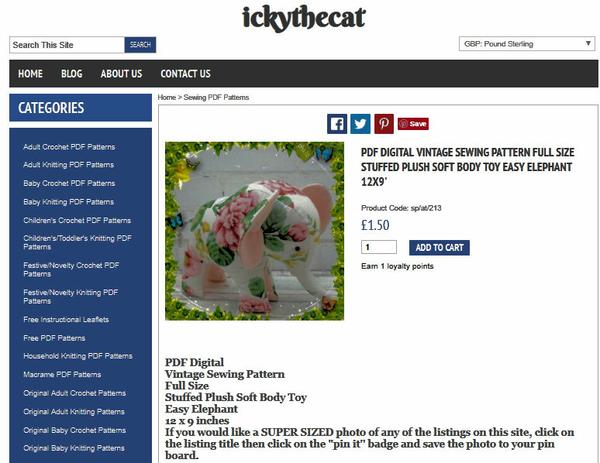 I am super-annoyed about this!  Rosie has contacted them about this but to to date has not received any response, so please please don't purchase Flora from them – she was a gift from me to everyone who loves to sew – and if you don't have her pattern already, then here's a link to download it now.
CLICK HERE
to download your
FREE
Flora the Elephant pattern
And finally, if you haven't already entered – we're holding a giveaway here the blog for one of our super-popular Rosie's Houseplants kits.  It's free to enter and if you'd like to learn more please just
CLICK HERE
for all the details.